Sunday at the Carrier Dome. The Orange have yet to lose a game, but against Clemson, the team did suffer a potentially debilitating loss.
In the first half, backup center Baye Moussa Keita limped off the court and was taken to the locker room with an apparent knee injury. Keitareturned to the bench for the second half, but he did not get back in the game.
Keita sat out practice Monday, and his status is uncertain for Wednesday's rematch with Pittsburgh at the Petersen Events Center.
"I definitely feel like I'm going to be back soon," he told Donna Ditotaof Syracuse.com. "I'm just going to take it game-by-game and see how I feel."
Some might say not having a reserve center who averages just two points and 3.6 rebounds in 15.8 minutes a night isn't a huge loss. They couldn't be more wrong.
Keita's impact on the game is not felt in the box score. He's not the most athletic player, and Syracuse fans will be the first to tell you that he's anything but an offensive force.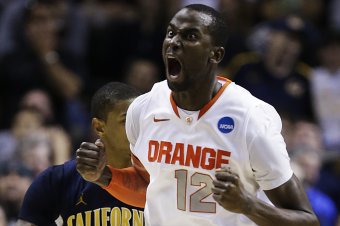 But what he lacks in offensive skill is certainly made up for with intensity, experience and leadership on the defensive end. The 6'10″ center from Senegal is the only senior on the team besides C.J. Fair who plays meaningful minutes. His experience anchoring the 2-3 zone is unmatched on this team.